FAA L-824 Type B Shielded 5kV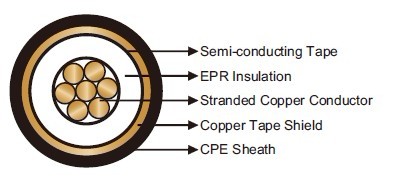 Applications
FAA L-824 Type B Shielded 5kV cables are used for interconnecting the transformers and the current regulator of airfield lighting systems in series circuits, suitable for fixed applications such as taxiways, runways, navigational aids, and obstruction lighting, can be installed in conduit and direct burial.
Standards
FAA L-824 Type B
ICEA S-93-639 / NEMA WC74
Construction
Conductor: Stranded tinned copper conductor.
Insulation: EPR.
Semi-Conductor: Helically applied semi-conducting tape.
Shield: Tinned copper tape.
Separator: Separation tape.
Sheath: CPE.
Technical Data
| | |
| --- | --- |
| Rated Voltage Uo/U (Um) | 5kV |
| Maximum Conductor Temperature | 90℃ |
| Short Circuit Temperature | 250℃ |
| Operating Temperatures | -40℃~+85℃ |
| Minimum Bending Radius | 12×OD |
| Halogen Free | Yes |
| Abrasion Resistant | Yes |
| UV Resistant | Yes |
| Oil Resistant | Yes |
Dimensions and Weight
Construction
No. of Strand
Nominal Insulation Thickness
Nominal Sheath Thickness
Nominal Overall Diameter
Nominal Weight
No. ×mm²/ AWG
-
mm
inches
mm
inches
mm
inches
kg/km
lbs/kft
1×6mm²
7
2.3
0.09
1.2
0.05
11.1
0.44
194
130
1×8
7
2.3
0.09
1.2
0.05
11.7
0.46
225
151