Caledonian Airport Cables
Building Management System BMS
Analog Signal Cable
FFX200 05mROZ1-R 2G1.0 (CU/MGT+XLPE/OSCR/LSZH 2×1.0mmsq 300/500V class 2)
FFX200 05mROZ1-F 2G1.0 (CU/MGT+XLPE/OSCR/LSZH 2×1.0mmsq 300/500V class 5)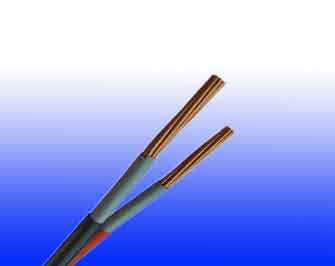 APPLICATIONS
The cables are multicore stranded flexible cables sheathed with thermoplastic LSZH compound. The cables have the ability to restrict the propagation of the flame in the event of a fire. This is especially important to slow down the spreading of the fire as the cables may pass from one area to another within a building. Applications can be found in control and power circuits, power stations, underground tunnels, lifts, escalators, and high-rise buildings.
STANDARDS
| | |
| --- | --- |
| Basic design | BS 7629-1 |
| Halogen Free | IEC 60754-1 |
| No corrosive gas emission | IEC 60754-2 |
| Minimum Smoke Emission | IEC 61034-1/2 |
| Reduced Fire Propagation | IEC 60332-3C / NF C 32070-2.2 (C1) |
| Flame Retardance | IEC 60332-1 / NF C 32-070-2.1 (C2) |
| Fire Resistance | IEC 60331 / NF C 32070-2.3(CR1) |
VOLTAGE RATING
300/500V
CABLE CONSTRUCTION
Conductors: Plain annealed copper wire, stranded according to EN 60228 class 2 or class 5.
绝缘: Mica glass tape covered by extruded cross-linked XLPE compound.
Cable elements: Insulated cores are twisted to form pairs.
Cabling: Pairs are cabled together.
Overall screen: Aluminum/polyester tape with copper drain wire.
Outer sheath: Thermoplastic LSZH compound.
COLOUR CODE
Insulation Colour: According to IEC 60189-2 (other colour code on request).
Sheath Colour: Colour red (other colours on request).
ELECTRICAL PROPERTIES
| | |
| --- | --- |
| Dielectric test: | 2000 V r.m.s. x 5' (core/core) |
| Insulation resistance | 1000 MΩ x km (at 20°C) |
| Short circuit temperature | 250°C |
PHYSICAL AND THERMAL PROPERTIES
Temperature range during operation (fixed state): -30°C – +90°C
Temperature range during installation (mobile state): -20°C – +50°C
Minimum bending radius: 8 × Overall Diameter
CONSTRUCTION PARAMETERS
FFX200 05mROZ1-R 2G1.0
FFX200 05mROZ1-F 2G1.0
No.of core
Nominal Cross Sectional Area
Number & Nominal Diameter ofStrands
Nominal Insulation Thickness
Nominal Sheath Thickness
Nominal Overall Diameter
Approx.
Weight
mm2
No/mm
mm
mm
mm
kg/km
2
1.0
7/0.44
0.6
0.8
7.2
64
2
1.0
32/0.2
0.6
0.8
7.2
64